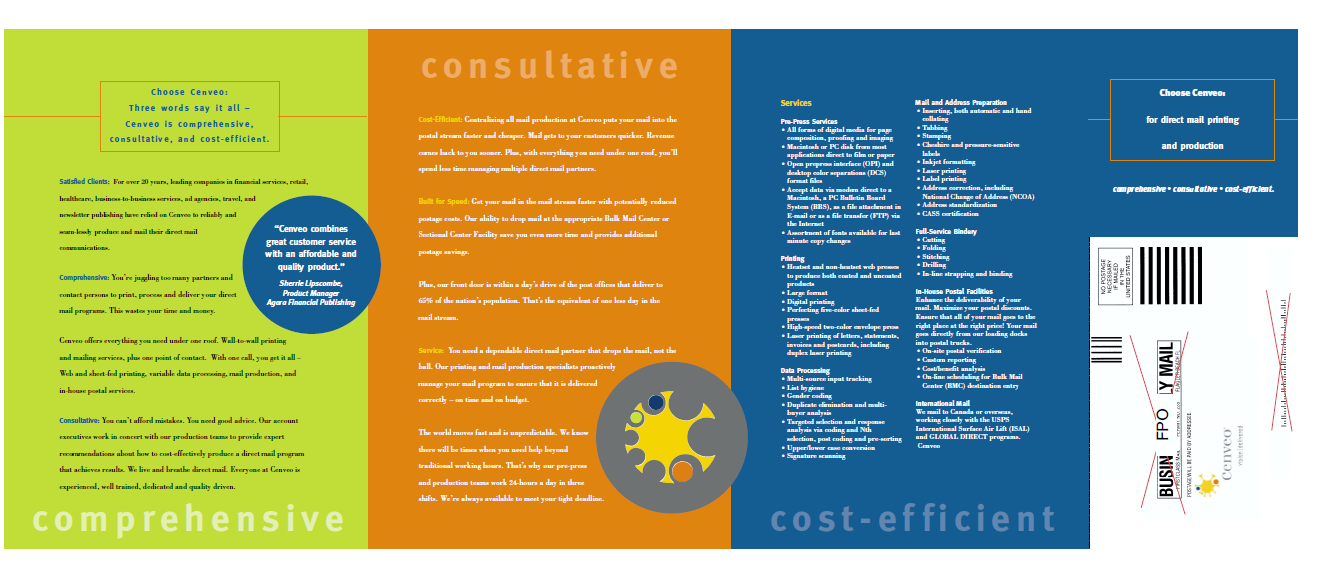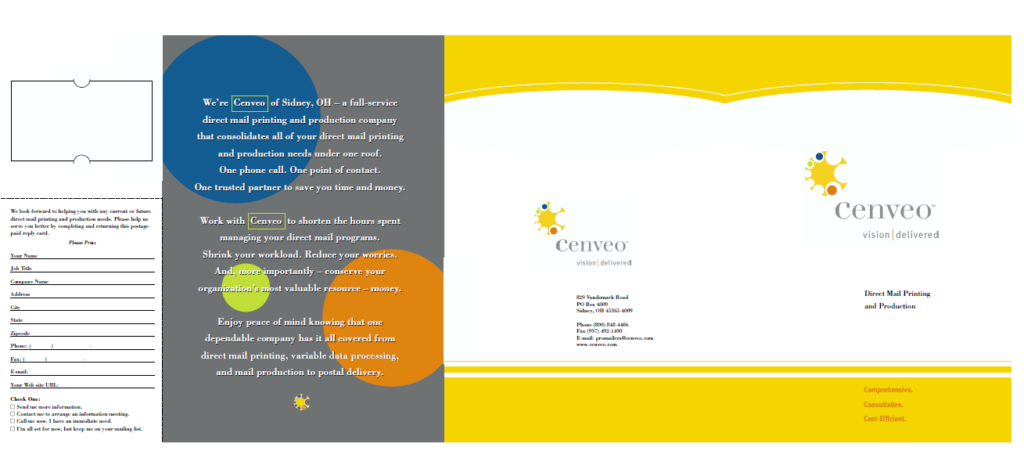 Marketing Services Provided: Brand Strategy, Direct Mail Campaigns, Newsletter, Case Studies, Copywriting, Graphic Design
Baldwin's Marketing Assignment
Judy Baldwin was hired by the Midwest Regional Division to create a brand strategy, direct mail campaigns, write the copy and hire a graphic designer to create a brochure and several postcards for a direct mail campaign, and create case studies and a monthly newsletter.
Branding Strategy
Printing companies often have trouble distinguishing themselves from other printers. When asked what sets the printer apart from their competitors, nearly all of them will say: "Our people and our service." While these are great attributes that contribute to a solid brand, they don't set the company apart.
After conducting probing conversations with Cenveo's management and staff, Baldwin created the new brand strategy and promise for the regional division: Comprehensive. Consultative. Cost-efficient. This brand approach communicated the divisions strengths and include a subtheme "Built for Speed."
Comprehensive: The division offered all of the printing and mailing services any customer needs.
Consultative: These services were sold by knowledgeable and consultative sales people who listen to customers and provide good service.
Cost-efficient: Every customer wants to save money, but using words similar to "budget-friendly" makes a company's services sound cheap or substandard. Choosing "cost-efficient" conveyed that the Cenveo team would find the best way to accomplish a customer's goals while staying within a budget.
Direct Mail Campaign, Case Study, Newsletters
Baldwin created and organized a three-month direct mail campaign centered around postcards that promoted each word in the brand promise: Comprehensive. Consultative. Cost-efficient.
Case studies
Baldwin wrote a series of case studies to help reinforce the brand themes of comprehensive, consultative, cost-efficient.
Newsletters
A newsletter program was launched by Baldwin. The newsletters were printed and direct mailed current and potential clients to demonstrate the quality of the company's printing services.
Brochure Design and Copywriting
The brochure used the corporate-defined color scheme and logo, but the brand themes were specific to the Midwest Regional Division. The brochure included a place to insert a business card for the Cenveo sales person who would service the account of the potential customer.